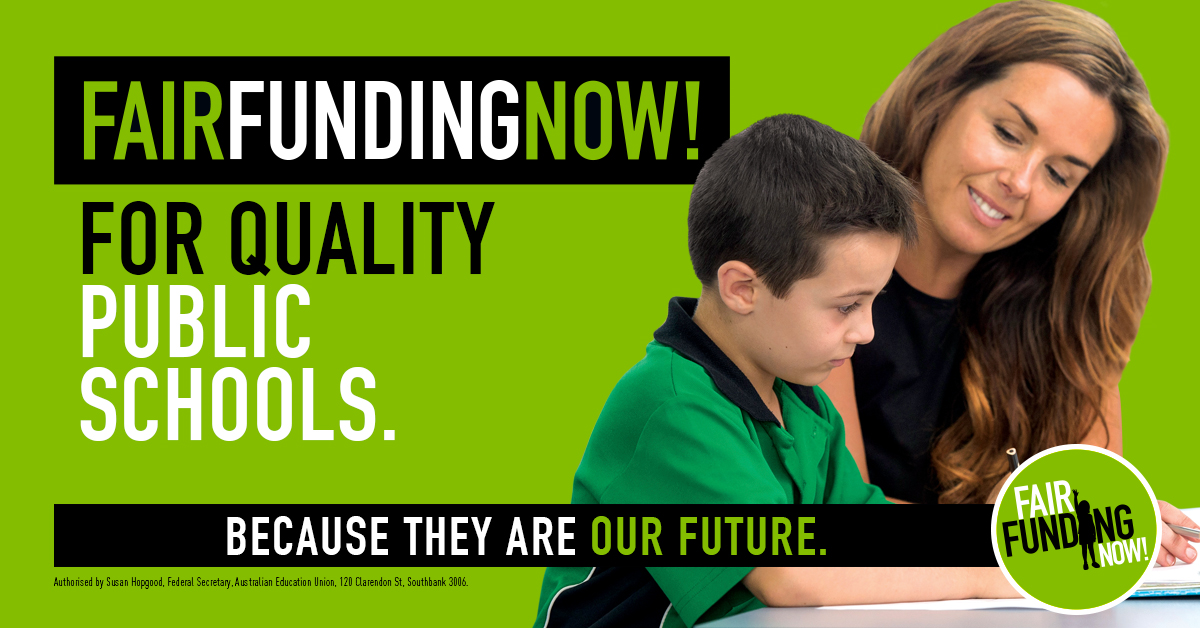 Fair Funding Now! Is a national campaign run by a community of people, parents, teachers, principals and citizens, working together to speak up and demand fair funding of public schools. It is authorised by Australian Education Union.
The Issue
2018 should have been a year of celebration for our schools. The start of the biggest investment in schools in decades. Needs-based funding started in 2014 after the independent "Gonski review" warned too many children were missing out due to lack of resources. These reforms were delivering:
Smaller class sizes.
More specialist teachers in areas such as literacy and numeracy.
More help for students with disabilities or behavioural problems.
And those in danger of dropping out.
The problem
Schools are missing out on billions that should have been delivered this year and next year.

What we want is needs-based funding that ensures all schools can meet the agreed school resource standard. But the Turnbull Government legislated to cap Commonwealth funding to public schools at 20% of what they need to reach the minimum schooling resource standard.

The Commonwealth will fund private schools to 80% of schooling resource standard. Some of the biggest increases in funding go to the schools that need it least.  That isn't fair and it certainly isn't needs-based funding. 
The solution
Every child has a right to a quality education and the opportunity to learn and fair funding for public schools is the best way to help them get it.  We are calling on all political parties to support the following:
Reverse the $1.9 billion cut to public schools in 2018 and 2019.
Agreements should be struck between the Commonwealth and the states and territories to ensure every public school is funded to 100% of the schooling resource standard (SRS) by 2023.
Remove the 20% cap on the Commonwealth share of the SRS from the Australian Education Amendment Act.
Establish a capital fund for public schools ($300m in 2018 and increase each year in line with enrolment growth and rising costs) to ensure all students are educated in classrooms and learning spaces where their needs can be met.
Reverse the cuts to disability funding in five states and territories.
Watch the video: https://youtu.be/9kOlji7gmf4
For more information visit www.fairfundingnow.org.au